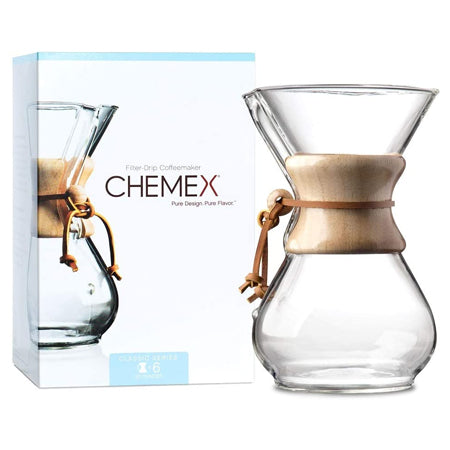 Why so good?
The Chemex® coffeemaker is an elegant, one-piece, hourglass shaped vessel made of high quality, heat resistant glass. The traditional model comes to you with a polished wood collar and leather tie.
Product Description
Few products in this century can match the flawless blending of design and function of the Chemex®. Its visual elegance has earned it a place in the permanent collection of New York's Corning Museum of Glass. The Chemex® coffeemaker was also selected by the Illinois Institute of Technology as one of the 100 best designed products of modern times.
Made of non-porous Borosilicate glass which will not absorb odors or chemical residues
CHEMEX pour-over allows coffee to be covered and refrigerated for reheating without losing flavour
Simple, easy to use with timeless, elegant design
Available in 2 sizes
Shipping
FREE shipping is available for coffee orders of £40 or more via a non-tracked Royal Mail (2nd Class) service.
Orders under £40 (and non-coffee products) incur a £3.99 charge for postage and packing. For next day shipping we offer a DHL Next Day service (Business Days Only) for £6.95.
Heavy and high-value items may be sent via a tracked service which may take up to 5 days.
Reviews