Dusty Ape Products & Services
Since launch we have been building strong retail and supplier relationships across the South West and beyond. During this time, we have organically grown a suite of supporting products and services that we are proud to offer you today.
As well as supplying you our finest Dusty Ape coffee at wholesale rates, we also supply, install and service coffee machines, barista tools, barista training and branded crockery - and more - to help your coffee business hit the ground running.
See below for more details and links to supporting information or get in touch with us directly.
Top Quality Coffee At Wholesale Prices
Whether you're running a café, restaurant, hotel, pub or even an office of discerning coffee drinkers you will receive discounted prices on our coffee and we'd be delighted to help you decide the right wholesale coffee package for you and your crew. We have a variety of single estate and blended coffees available and we can arrange swift delivery schedules that suit you.
With so many consumers becoming discerning coffee drinkers, some of the benefits of using Dusty Ape include:
- Free delivery and training
- Machine support
- 10+ years experience
- A well regarded speciality coffee company with a highly visible and recognisable brand
- For hospitality, a small increase in coffee price (10-20p per cup) can dramatically increase coffee sales and is often easily added to sales price meaning you can sell more coffee at no additional cost
- For offices, increased work satisfaction, collaboration and retention for a very small cost per head
Machines, Equipment & Aftercare
Serving Dusty Ape coffee is the first step in raising your coffee game, the next step is ensuring that having good quality equipment to ensure:
- Consistency in cup quality
- Great styling that shouts 'we serve great coffee'
- Ease of use
- High reliability and easy maintenance
That's why we have developed and refined our product and service offering to provide the technical and aftercare support you need for your business.
We partner with Sanremo Coffee Machines for their years of technical excellence and relentless conistency. They meet our own high standards and our relationship with them ensures we get the right product, at the right price and at the right time for you and your business.
For peace of mind we offer an aftercare service on your machines and equipment - and any other coffee-related needs you may have - as a smooth running business is vital to us as much as it is for you. We take pride in building a friendly, helpful and reliable network for our wholesale partners for when things don't always go to plan.
Our equipment is sold with 12 months on-site parts and labour warranty, but after that all our support services are chargeable.
Barista Training
Barista training is available for all wholesale coffee clients. Get in touch for more information via the link below or email sales@dustyape.com.
Building Partnerships
We have developed some wonderful partner relationships to compliment our core coffee offering which allows you to expand your offering to your customers. In addittion to our machine, equipment, training and aftercare we can offer you products from our following partners.
Beyond the Bean
Bristol-based Beyond the Bean is an independent and family-owned company who supply a tasty range of hot chocolates and flavoured syrups amongst many other things.
Iford Manor Teas
Set in the beautiful countryside of Bradford-on-Avon, Iford Manor is a family-owned estate with rich history dating back to the Domesday Book. Their teas and infusions are expertly sourced from all the world and, if you ask nicely, they may even design a tea blend just for you!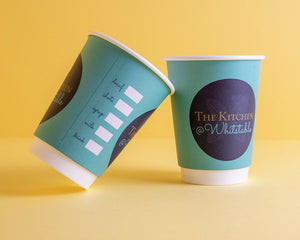 Branded Takeaway
If you are looking for branded, sustainable and cost-effective takeaway cups, carriers and bags then we can help you find the perfect products for you.
ENQUIRE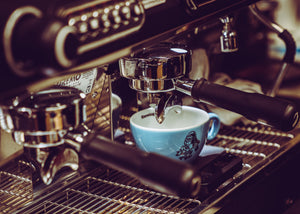 Branded Crockery
We can design, source and supply your home or cafe with high quality branded crockery that are built to withstand the busiest of kitchen tops or coffee counters.
ENQUIRE