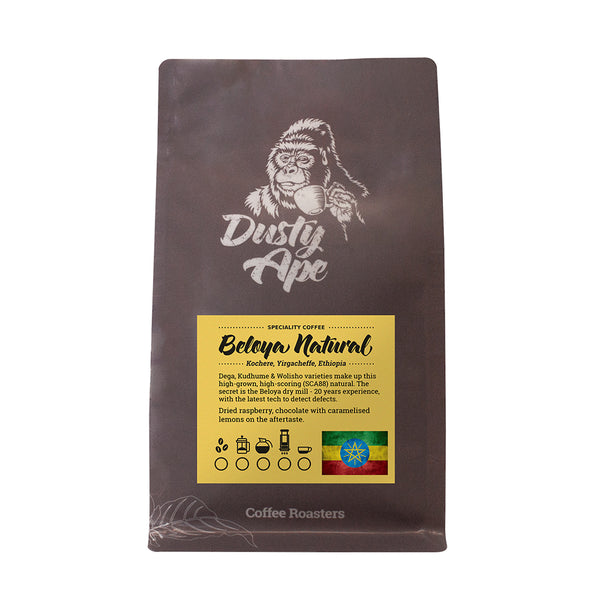 Ethiopia Yirgacheffe Beloya Natural
Tasting Notes
Dried raspberry, chocolate with a caramelised lemon aftertaste.
Origin
Kochere District, Ethopia.
Why so good?
High-grown, high-scoring natural with a SCA of 88.
Variety
Dega, Kudhume & Wolisho.
All about the coffee
The Beloya washing station lies in the Kochere District; just north of Chelelektu, and 45km from Dilla, the administrative centre of the Gedeo Zone. Smallholder farmers in the hills surrounding the washing station bring their cherry here to be processed, cupped and sold. The coffee is grown at high altitudes in iron rich soils with a spread of genetic diversity provided by the heirloom varietals. The coffee farmers use traditional pest control methods that have been in use for many years, and so organic production is commonly found.
Shipping
FREE shipping is available for coffee orders of £40 or more via a non-tracked Royal Mail (2nd Class) service.
Orders under £40 (and non-coffee products) incur a £3.99 charge for postage and packing. For next day shipping we offer a DHL Next Day service (Business Days Only) for £6.95.
Heavy and high-value items may be sent via a tracked service which may take up to 5 days.
Reviews