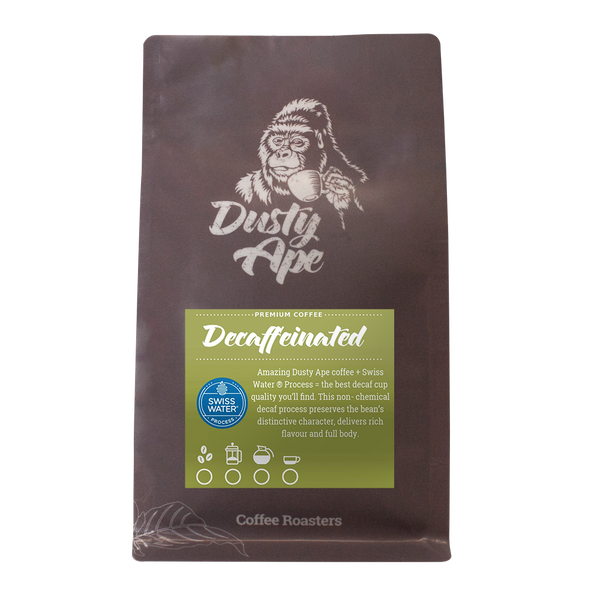 Colombia Excelso - Swiss Water Process Decaffeinated
Tasting Notes
Good acidity, medium-bodied, citrusy flavour, with a clean and sweet aftertaste.
Why so good?
Drink this safe in the knowledge that there are none of the chemical residues typically associated with solvent-based decaffeination techniques; better still the gentle Swiss Water Process (SWP) leaves all the taste intact.
Processing
Swiss water process.
Variety
Colombia rich acidity.
All about the coffee

Excelso is a coffee grading term in Colombia. The beans are large but slightly smaller than Supremo coffee beans. Colombian coffee is graded before shipment according to bean size. It is possible that Supremo and Excelso coffee beans are harvested from the same tree, but they are sorted by size. Processing Decaffeinated coffee has come a long way since its invention in 1903. Unfortunately, most decaffeination processes still employ harsh chemical solvents such as methylene chloride or ethyl acetate to strip caffeine from the green coffee bean, potentially leaving a residue and removing some of the flavour as well as the caffeine. The Swiss Water Process seeks to avoid this by soaking the green coffee beans in water. The highly soluble caffeine and some of the flavour compounds migrate to the water through osmosis. Active charcoal is then used to remove the caffeine from the water leaving behind the flavour compounds and then water is recycled back through the green coffee until 99.9% of the caffeine is removed. Because the water is saturated with the flavour compounds, it can no longer leave the coffee. This method reduces water use and preserves flavour.
Shipping
FREE shipping is available for coffee orders of £40 or more via a non-tracked Royal Mail (2nd Class) service.
Orders under £40 (and non-coffee products) incur a £3.99 charge for postage and packing. For next day shipping we offer a DHL Next Day service (Business Days Only) for £6.95.
Heavy and high-value items may be sent via a tracked service which may take up to 5 days.
Reviews